Details

Parent Category: Other Festivals
Category: Music
Published on Friday, 09 September 2011 01:11
Written by Adrienne Kehn
The NY Gypsy Festival celebrates its seventh year with another outstanding performance schedule and a total of nine shows from September 9th – October 1st, 2011.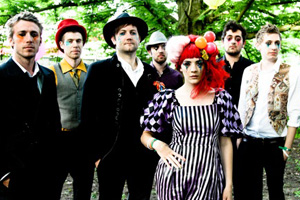 Since its first show seven years ago, this grassroots festival has reached thousands of fans and immigrants in New York, transcending barriers and celebrating the music of the people of the Roma (ie. Gypsies).
Over the last seven years the infamous festival's reputation has grown to one of national prominence. That which defines the Gypsy diaspora, tenacity, vivaciousness, variety and spirit, in turn defines the entire festival.
In preparation for the epic 7th edition of the New York Gypsy Festival, 15 headliners haved been lined up for the "loudest and proudest" festival New York has to offer.
Highlights include:
The US debut of Italy's much revered Canzoniere Grecanico Salentino
New Mexico-based A Hawk and a Hacksaw
Austria's Electro Swing masters Dunkelbunt & The Secret Swing Society
Barcelona's wild and creative band Freak Fandango Orchestra
From klezmer hip-hop to flamenco funk, Balkan jazz & blues to indie-pop there is a little something for everyone on this year's menu.
For more details, visit http://www.nygypsyfest.com/.
The New York Gypsy Festival
September 9 - October 1, 2011
Drom
85th Ave A (between 5th and 6th Streets)
New York City, NY