Details

Parent Category: Other Festivals
Category: Theater
Published on Thursday, 17 September 2009 10:49
Written by fftraveler staff
The French Institute Alliance Francaise (FIAF), New York's premiere French cultural center, opened their big Fall event, The Crossing the Line 2009 Festival with Le Bal NYC, a culinary-infused participatory dance party/picnic in Central Park's historic East Meadow on Saturday, Sep 12th, 2009, from 2–6pm. French choreographers, including Germaine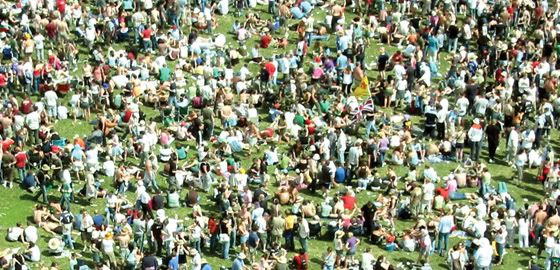 Acogny, Odile Duboc, Latifa Laâbissi, and Olivier Dubois presented a fresh new take on the bal populaire, creating short dances to be taught section by section to the public.
Le Bal NYC
dance event in Central Park
September 12, 2009
A fresh new take on some classic French traditions, the "bal populaire" and the "pique-nique" are reinvented as Crossing the Line is launched. Both established and emerging choreographers from France have specially created short new dances which are taught section by section to the public. As both audience and performers of the new work, participants get an insider's look into the mechanics of contemporary choreography as well as the creative imagination of dance personalities.
Simultaneously. to sate the appetite of all these dancing feet, the Omnivore New York "brigade," innovative master chefs from both France and New York, created special Crossing the Line Bento Boxes—a unique reinvention of the picnic for this family-friendly celebration with different elements created by innovative master chefs Inaki Aizpitarte, Pascal Barbot, Alexandre Gauthier, and Michel Bras, from France, as well as New York's David Chang, and Wylie Dufresne.

OPENING PROGRAM

2pm
Dance with Germaine Acogny, represented by Nora Chipaumire
2:45pm
Tasting: American artisan cheese sampling with cheeses selected by Anne Saxelby of Saxelby Cheeses; Free Dancing
3pm
Dance with Latifa Laâbissi
3:45pm
Tasting: Chocolate and Bread; bread by Bruno Dinel, baker in Strasbourg, France; Free Dancing
4pm
Dance with Odile Duboc
4:45pm
Distribution of Bento Boxes with components made by French and American master chefs; Free Dancing
5pm
Dance with Olivier Dubois
5:45pm
Free Dancing/Wrap up
 
The program for the third annual edition of the Crossing the Line Festival, presents a new generation of trans-disciplinary artists in New York City for three intensive weeks of new ideas and fresh perspectives.

Conceived as a platform to present vibrant new works by a diverse range of artists working in France and New York City, Crossing the Line is initiated, conceived, and produced by FIAF in partnership with leading New York cultural institutions.

In 2009, this inter-disciplinary contemporary arts festival will further develop its focus on artists who are transforming cultural practices on both sides of the Atlantic. Whether by performing shopping, watching sounds, composing films, or reading movements, audiences will join in exploring, sensing, and tasting a unique collection of outstanding new works and experiences, and discovering new revelations from each of these extraordinary artists.

The third edition of Crossing the Line is co-curated by Lili Chopra (Artistic Director at FIAF) and Simon Dove (Director, School of Dance at Arizona State University), and runs from September 12 through October 3, 2009.
A number of the programs and events will utilize FIAF's own spaces, including Florence Gould Hall, Tinker Auditorium, the FIAF Gallery, and Le Skyroom. Established partners in New York City will also host events, including Cabinet Gallery, CPR–Center for Performance Research, Dance Theater Workshop (DTW), Danspace Project, Luxe Gallery, Macy's, the New Museum, and Performance Space 122 (P.S. 122). Additional partners for Crossing the Line 2009 include Anthology Film Archives, the Baryshnikov Arts Center (BAC), Omnivore New York, and the Whitney Museum.

Marie Maillard's "Wall 0909"
Luxe Gallery
and
an installation
FIAF's Florence Gould Hall
August 27–September 26
Maillard's work combines the concepts of both video and wallpaper. One is concrete, the other is transient; one is decorative and made as background, the other often complex, and pithy. Maillard's work creates elegant and enigmatic hybrids, which not only conflates these oppositions but utilizes each to redefine the other. She uses video decoratively and formally, while wallpaper suddenly becomes quizzical. Video-wallpaper, a logism that has come to identify her particular style of expression, overlaps, morphs, isolates, and distorts images, words, and sounds—conveying the notion of the habitable image coming out of the screen and investing the architectural space. In her investigations of an aesthetic of fonds d'écran, Maillard's immaterial wallpapers blur the line between domestic and public space, and question the relationship between body and the occupation of space.

Crossing the Line peeks out from the windows
Macy's
September 8-27
Art meets fashion in surprising and beautiful ways as the Crossing the Line artists take over the windows lining 34th Street and 7th Avenue at the legendary Macy's flagship store. The ongoing window series, "Art Under Glass," will preview the Crossing the Line festival in a collaborative celebration of French culture and American fashion. Windows will feature the work of: Agathe Snow / Rita Ackerman, AIDS – 3D, Olivier Babin, Marie Losier with Aya Kakeda and François Leloup-Collet, Marie Maillard / Amélie Chabannes, Sarah Ortmeyer, Shoplifter, The Bruce High Quality Foundation, Visual System, Nick van Woert, and Michael L Yinger. The sidewalk art gallery will showcase the contemporary works of these vibrant artists, against a bold backdrop of fall fashion featuring Macy's new and exclusive Rachel by Rachel Roy collection.

"Omnivore New York" hosts a day dedicated to culinary exploration
FIAF
September 13
A unique opportunity to explore the sublime and total sensory investigation of our world through some of the most transformative chefs of our times. Crossing the Line is partnering with Luc Dubanchet and his Omnivore team, based in France, bringing together the leading creators from the kitchens of New York and France for a series of events that enable participants to see, talk, taste, imagine, and meditate on some of the world's most inspiring culinary creations. Events include a screening of the documentary, Inventing Cuisine: Michel Bras, followed by a conversation between legendary chef Michel Bras and culinary expert Julie Andrieu. Omnivore New York will culminate with Shadows and Light, onstage cooking "duets" that will pair American and French chefs for a live comparison of techniques and the exploration of new flavors and tastes. Duets will feature: Wylie Dusfresne and Inaki Aizpitarte; David Kinch and Pascal Barbot; and David Chang and Alexandre Gauthier. The visiting chefs will also be cooking at David Chang and Wylie Dufresne's restaurants on Monday, September 14.

Steven Cohen's "Knock'Em Dead"
CPR–Center for Performance Research 
September 16-17
The African Burial Ground (Lower Manhattan), Trinity Churchyard Cemetery (Wall Street), St. Paul's (Ground Zero),   and the three cemeteries of the Spanish Portuguese Synagogue, to name a few Manhattan resting places, are all located within New York's "concrete jungle", and bridge racial, cultural, and religious differences. Death is the final, inescapable equalizer of all people. Steven Cohen's work aims to look at the idea of "motionlessness" and silence within the noisy and actively congested Manhattan city space, with particular attention paid to those resting in the small cemeteries that survive in the "city that never sleeps".

As part of his ongoing GOLGOTHA project, Cohen will also show fragments of the filmed "public interventions" from this work, made in New York City during 2008 and 2009.

Visual System presents "A Digital Experience.. ."
FIAF Gallery
September 16–October 24
Visual System (VS) is a collective created in 2007 whose projects explore the role of digital media in the city of the future. The FIAF Gallery will host an interactive exhibit featuring three installations created by four artists from the collective: Olivier Pasquet, Djeff Regottaz, Bastien Ribeiro, and Valère Terrier. Within the framework of creating a completely digital megalopolis, A Digital Experience.. . will present different aspects of digital contemporary art through the viewer's immersion into a network of poetic and interactive works. The works are both linked to one another and stand-alone pieces, and the city "plan" can be compared to a subway map, allowing the flow of electricity, energy, and humanity. A musical composition by Olivier Pasquet (IRCAM) will accent and complete the new digital universe.

Nacera Belaza's "Le Cri"
Danspace Project
September 17–19
The choreographer and dancer Nacera Belaza has described her work as, "an exhortation of being, a dialogue with the invisible" (Dance Theater Journal, 2007). With ten creations to her credit since founding her company in 1987, Belaza succeeds in questioning the codes of dance and religion with a personal style that mixes beauty and austerity. Faithful to her way of life and view of the world, Le Cri is characterized by its restraint. Nevertheless, this duet, which Nacera Belaza dances together with her sister, is overflowing with sensuality. It is a musing on human life and our desire for spirituality, without losing sight of pleasure and enjoyment.

Metamkine's live film performance
FIAF's Florence Gould Hall
September 18
A trio founded in 1987 and based in Grenoble, La Cellule d'Intervention Metamkine includes one musician (Jérôme Noetinger) and two filmmakers (Christophe Auger and Xavier Quérel) whose research into the relationship between image and sound has resulted in works they refer to as live "musico-cinematic" creations. Working with a core narrative, the three artists create a series of impromptu situational vignettes accompanied by a live soundtrack of tape fragments and analog synthesizer sounds. Through the use of mirrors, multiple projectors, and ingenious on-stage editing, they produce and direct a new film live—simultaneously a performance and its document.

Julia Mandle's "Fabrication of Blindness"
Cabinet Gallery
September 19–27
Inspired by the work of a French war-photographer, Julia Mandle has created Fabrication of Blindness.  This installation serves as both a memorial and protest to America's use of torture in Iraq, Guantanamo Bay, and beyond.  She has built a large dark cloud made out of black military sandbags which are used to hood prisoners.  Mandle has collected letters, poems, and stories by the detainees, which have been embroidered onto the hoods, during a series of sewing circles in New York City and Washington DC.
U.S. Premiere of Bettina Atala's "Season 1 episode 2"
FIAF's Florence Gould Hall
September 22
Season 1 episode 2 by Bettina Atala presents a film that examines its own production process step by step, as it is being created. The work questions the role of TV, film, Big Brother and the boundaries of reality and fiction—while offering a delightful critique of social norms and structures. Artfully combining film and performance, Atala also performs with the French group Grand Magasin on an ongoing basis.

U.S. Premiere of Raimund Hoghe's "Boléro Variations"
Dance Theater Workshop
September 23–25
and
a special performance of "L'Après-midi"
Danspace Project
September 26
Both performer and choreographer, Raimund Hoghe's work is nothing less than a political gesture that questions our conceptions about difference and our expectations about the dancing body. Hoghe's presence on the stage both energizes and destabilizes audiences, opening a pathway toward an inclusive view of humanity. Boléro Variations, a dance piece created in 2007 in Paris, features the music of Ravel's Boléro as well as fado, folksongs and the TV sound broadcast from Jayne Torvill and Christopher Dean's ice-dancing performance at the 1984 Olympics in Sarajevo. L'Après-midi is based on Vaslav Nijinski's legendary interpretation in 1912 of a Stéphane Mallarmé poem, L'Après-midi d'un faune. Revisiting this piece nearly a century later, Hoghe spotlights the talent of the young dancer Emmanuel Eggermont in a radiant solo performance.

World Premiere of "Alice Guy Blaché Film Score Project" featuring composers Missy Mazzoli, Tamar Muskal, Tender Forever, and Du Yun
September 29
In collaboration with Whitney Live, FIAF presents four young composers in dialogue with the pioneering filmmaker Alice Guy Blaché (1873-1968) as part of the Whitney Museum of American Art's retrospective of her career (November 6, 2009–January 24, 2010). Missy Mazzoli, Tamar Muskal, Tender Forever, and Du Yun find common ground with the first-ever female filmmaker and shed a contemporary light on Guy Blaché's legacy through live performances matched to her short films. These four composers each possess an extraordinary vision and a vibrant record of original work, each one pushing the boundaries of contemporary composition in a transformative and singular way.


World Premiere of Maria Hassabi's "Solo"
Performance Space 122
September 29–October 4
SOLO SHOW, a new dance work by Maria Hassabi, premieres consecutively this fall at Performance Space 122 as part of Crossing the Line, and a month later as part of Performa 09.  Conceived as a diptych of two autonomous evening-long solos, the works are related to one another as two moments of shifting perspective, (a parallax). Together, the solos play between opposing orientations as the performer moves from a solitary contemplation to a devotion to 'show-culture'. SOLO SHOW extends Hassabi's exploration of how a multitude of familiar representations of the female body can be dissolved into the physicality of contemporary dance.

Matsune & Subal Production present "store"
Luxe Gallery
September 30–October 3
Store is a shop. Art is a business. In store you can buy movements, actions, and behaviors. There are more than 60 performance products to choose from! Through the process, Matsune & Subal create a product which the audience/customer can take away or get delivered in the mail. store questions the consumption of art and our consumption of the consumption culture. It lets the audience/customer/viewer analyze his/her own role as a consumer of performance and his/her own performance of a purchase.

Trajal Harrell's "Twenty Looks or Paris is Burning
the Judson Church (S)" at the New Museum, co-presented by Danspace Project,
from October 1–2
Twenty Looks or Paris is Burning at the Judson Church is the collective and shared title of five dances in five sizes: Extra Small (XS), Small (S), Medium (M), Large (L), and Extra Large (XL), choreographed by Trajal Harrell. "What would have happened in 1963 if someone from the voguing ball scene in Harlem had come downtown to perform alongside the early postmoderns at Judson Church?" Rather than illustrating a historical fiction, Harrell's new work transplants this proposition into a contemporary context and debate about the seduction of the audience and the naiveté of the performer and/or vice-versa. The (S) version, co-presented by the New Museum and Danspace Project in association with Crossing the Line 2009, will be a solo performance by Harrell with work by visual artist Franklin Evans.
Crossing the Line 2009
September 12–October 3, 2009
Full Schedule and info at: